Social Media Metrics – How to measure and optimize your marketing investment by Jim Sterne
Copyright 2010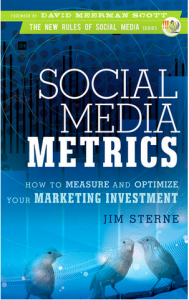 I selected this book, because I was looking for a resource to give me a good solid base to the subject of social media. I am not technologically advanced, and the idea of social media is new to me.
The book discusses the value of measuring the sentiment and influence of social media and its importance to organizations and brand creation, building and protection. Sterne says brands no longer belong to the companies, but instead the consumer. The book communicates the important value of your social media effort and gives the reader a metric to begin answering the question regarding how much budget and time should be allocated to the effort.
The first chapter is about identifying the goals for the social media effort, which according to Sterne is most often skipped by many social media marketers. He says your business goals, including the ones driving your social media effort, should be chosen only if they generate one of three outcomes: Increased revenue, Lowered costs, or Improved customer service. The author says that if the work you do does not provide an uptick in one or more of these areas, you are wasting your time.
The book talks about the process and each component of the business process: Setting goals, reaching your audience, Identifying the influence you have, recognizing reaction, Triggering the desired action, Hearing the conversations, and seeing the future. The book also tells the reader what to measure and what not to measure and he gives very general advice on how to do it without going into too many technical details. This is not a book of regression analysis, thank you Jim.
This book is for anybody involved with a business that is using or thinking of using social media. In the You Tube link below, Jim Sterne explains the importance of the book and why he thinks social media is so crucial to today's business world.
http://www.youtube.com/watch?v=U79DxwUg_7I
Jim has spent more than 20 years selling and marketing technical products. He began his career as a professional explainer, helping people understand VisiCalc at a time when "personal computer" was an oxymoron. He successfully described sales order processing systems to people using hand-cranked tabulators. He was at the forefront of the Computer Aided Software Engineering (CASE) tool revolution and has clarified the salient points of object-oriented programming to software engineers across the country.
The book has many examples and a large amount of information for today's marketers. It is a book that should be readily available and cannot be fully implemented after one read. It is a reference tool and should be readily available for today's social media marketer.
Book Review Power Point You Tube Link
http://www.youtube.com/watch?v=U6oUhHFAPHU
Submitted by Justin Weis